Bowlus RVs Put an Aerospace-linked Twist on Luxury Land Travel
Bowlus is the luxury RV company you probably don't know exists, but it's been around as long as the Chevrolet Suburban – since 1934. The first of its travel trailers was built that year by company founder Hawley Bowlus who is most notable for being the aerospace engineer and designer behind the Spirit of St. Louis, which was flown by Charles Lindbergh on the first solo nonstop transatlantic flight in 1927.
Unlike the Suburban, Bowlus travel trailers stopped being built in 1936 after Wally Byam, Airstream's founder, adopted the design for that company's campers.
Intrigued by "the one that was copied by all the others", Geneva Long and her family found a vintage Bowlus years ago and took it on a "remarkable" trip. She recounted to Newsweek that "so many people loved what it was."
In 2014, Long and her family revived the brand and the trailer's design as a modern luxury vessel, complete with first-to-industry advanced technology.
"We went about redesigning the Bowlus," Long told Newsweek. "It still has all the things that its ancestors had," points out Long, while moving the conversation forward to discussing the company's sustainable sourcing and build practices, which she says have been chosen and installed with a "fanatical attention to detail".
Bowlus makes good use of Alclad 2024 T3 aluminum, a material that is meant to be polished for decades before it needs replaced. The two types of wood that feature in the Bowlus models are a fast-growing tree native to Italy and an FSC-certified raw material.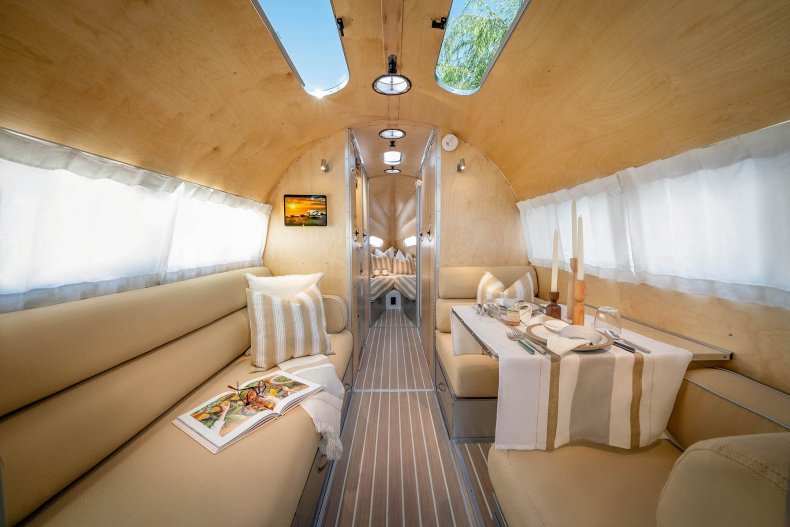 No glues are used in the construction fo the trailers. The floors are covered with a low VOC certified resilient-vinyl product and seating is a PVC-free, low VOC polyurethane product. All bedding is organic.
While the trailers' aircraft-grade rivets are a throwback to a simpler time, Bowlus has continually pushed the envelope when it comes to travel trailer tech over the last half-decade. The company was the first to install heated floors in a travel trailer, had the first direct-to-consumer model in the RV market, and marketed the first lithium-powered product.
Incorporating these materials and details into a vintage travel experience went hand in hand with pairing back the model's design. The company's most high-end travel trailer, Terra Firma, works to seamlessly merge technology and craftsmanship by hiding features in plain sight.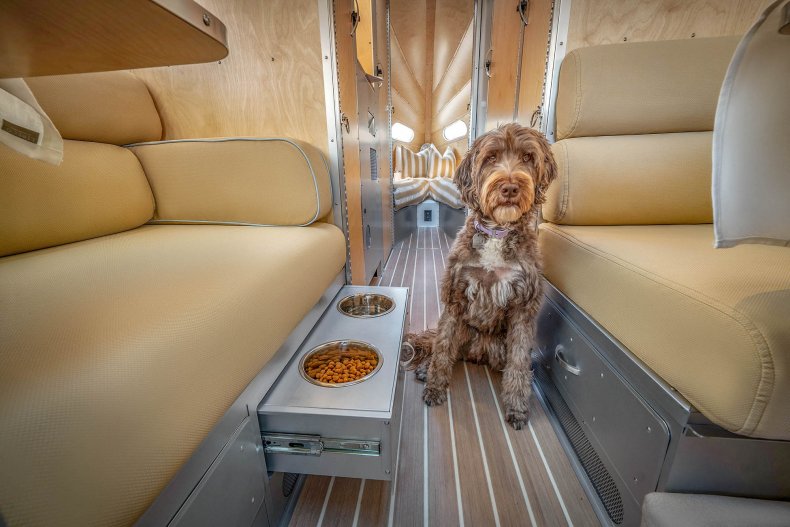 The model has remote temperature monitoring capability, which allows owners to know that the pets traveling with them are safe from extreme temperatures. There's food bowls, a smart brake controller that connects via Bluetooth, touch screen power management, GPS tracking capability and a water filtration system.
Long prides herself of being captain of a ship with a product that allows for extended work from home possibilities. "We've always had customers that want to blur that work/life balance," she told Newsweek. With the technology on-board a Bowlus, "they can still make that Zoom meeting" which allows "owners and future owners more reason to define what 'out of office' really means."
The lightweight Bowlus travel trailers are able to be pulled by a wide variety of vehicles, unlike their far heavier competition. "One of our reasons for lightweight design is that it opens Bowlus up to wide variety of tow vehicles including luxury crossovers and electric vehicles," said Long. "We've been having EV owners tow their Bowlus for five years now." This includes Tesla Model X owners who can can get up to a 175-200-mile range when the trailer is attached, according to Long.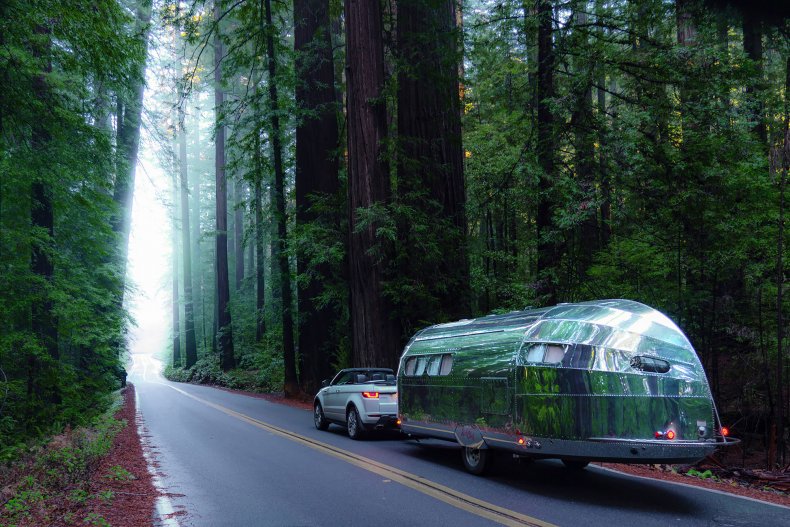 The ability to tow at range comes down to the fact that the Bowlus RVs are shaped differently than more traditional, boxy models. Long says that the handling is "fantastic" when a Bowlus trailer is attached because "you don't have the flat surface area that wind comes up against" and the trailer is the same width as a standard vehicle.
Long calls the campers "this great little secret of luxury land travel" but the secret is getting out. There is an ongoing waitlist for the products, which can be highly customized based on a buyer's desires.
The entry model into the Bowlus lineup is the Endless Highways Edition luxury performance RV. It comes in at $215,000. The higher end Bowlus Endless Highways Performance Edition will set a buyer back at least $240,000. Bowlus tops their line with the Terra Firma, which starts at $265,000.
Published at Thu, 21 Oct 2021 00:00:01 +0000
https://www.newsweek.com/bowlus-rvs-put-aerospace-linked-twist-luxury-land-travel-1641060