Bulgaria bus crash kills at least 45 people
Bulgaria bus crash kills at least 45 people
Ministry officials say children are among the dead after a bus from North Macedonia crashed and caught fire on highway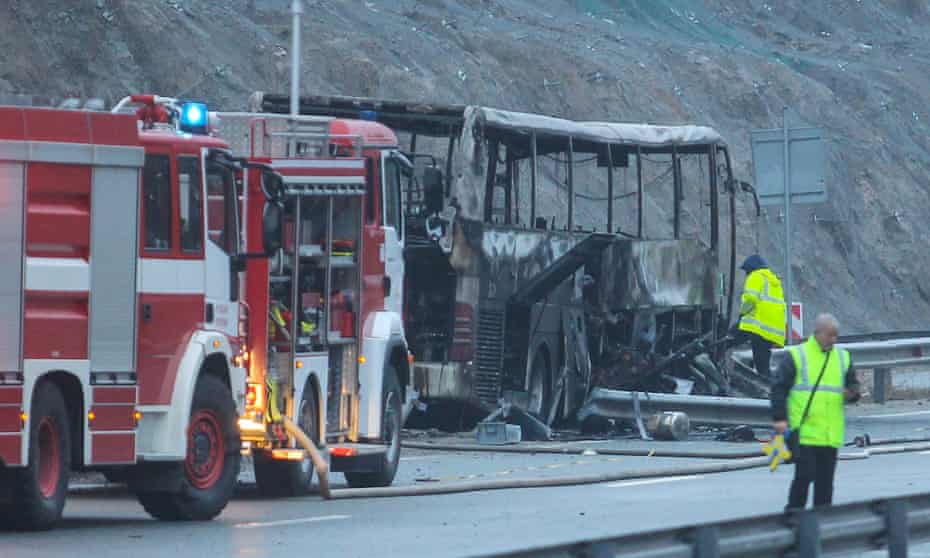 At least 46 people have died, including 12 children, after a bus caught fire on a highway in western Bulgaria on Tuesday, officials have said.
"We have an enormous tragedy here," Bulgarian interim prime minister Stefan Yanev, who travelled to the scene, told reporters. His interior minister, Boyko Rashkov, said: "The picture is terrifying, terrifying. I have never seen anything like that before."
Most of the victims were tourists from North Macedonia. Seven people with burns were taken to hospital in the capital, Sofia, interior ministry official Nikolai Nikolov told BTV television.
An official from Sofia emergency hospital said the seven people had jumped out of the burning bus and all were in a stable condition.
"I am terrified. This is such a huge tragedy," North Macedonian prime minister Zoran Zaev told BTV.
The cause of the accident was unclear but the bus appeared to have hit a highway barrier either before or after it caught fire, Bulgarian officials said.
Television footage showed the bus charred and gutted by fire in the middle of the highway.
"At least 45 people were killed after a bus caught fire and crashed, or crashed and then caught fire," Nikolov said. His ministry later updated the toll to 46. There had been 53 people on board.
North Macedonia's foreign minister, Bujar Osmani, said the coach party was returning to Skopje from a weekend holiday trip to Istanbul, Turkey.
The accident happened on Struma highway about 45km (28 miles) west of Sofia near the village of Bosnek at around 2am. The site has been sealed off.
Most of the victims were from North Macedonia, an official from the North Macedonia embassy in Sofia told BTV.
Topics
Europe
North Macedonia
news
" target="_blank" rel="noreferrer" data-ignore="global-link-styling">
Reuse this content
Published at Tue, 23 Nov 2021 05:15:53 +0000
https://www.theguardian.com/world/2021/nov/23/bulgaria-bus-crash-fire-kills-dozens-north-macedonia