Covid live: Olympics could cause new variant, doctor warns; Facebook to allow posts saying virus 'man-made'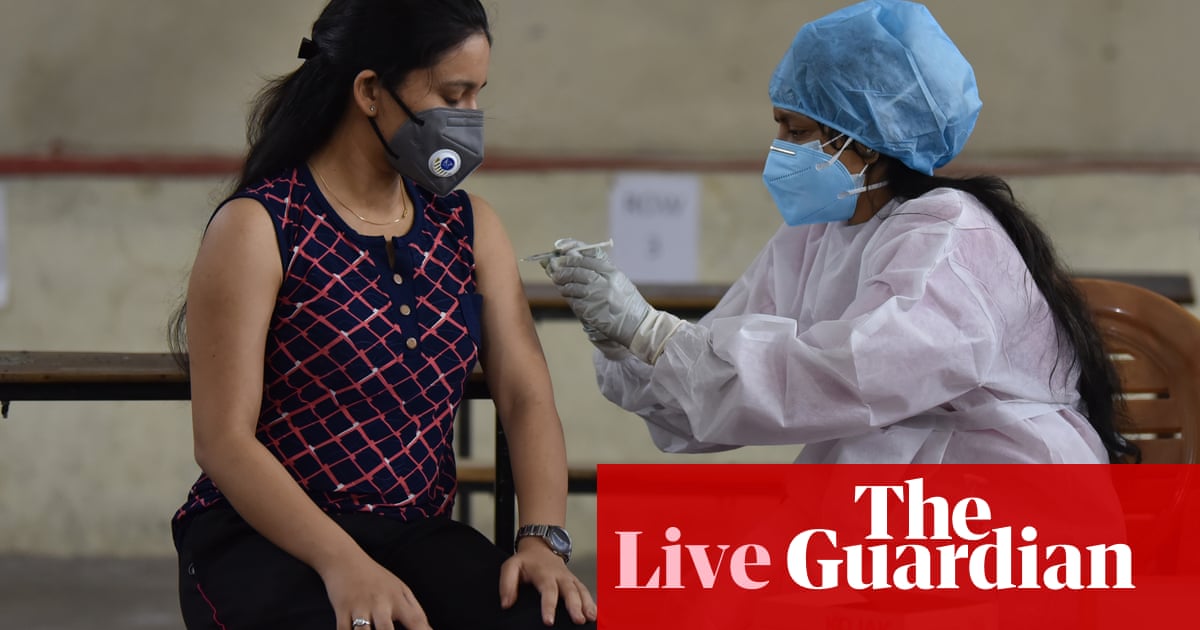 The hotline for booking a Covid-19 vaccine in Australia was unavailable for hours following the Victorian government's decision to open up vaccinations to those aged over 40.
As the acting premier, James Merlino, announced Victoria would go into a seven-day lockdown to get on top of a growing number of cases of Covid-19, he announced people aged between 40 and 49 would be able to get the Pfizer vaccine at state-run clinics from Friday.
Merlino said it would be a matter for the federal government on whether the vaccine would be available for those in that age group at GP surgeries, but said the decision was arrived at due to frustration over the slow pace of the vaccine rollout.
"If we had the vaccine, the commonwealth's vaccine program effectively rolled out, we may well not be here today talking about these circuit-breaker restrictions that we must impose to keep our community safe."
Read more here: Victoria's hotline for booking Covid vaccines crashes after being inundated with calls
A major Australian retail group has been hit with $630,000 in fines for multiple breaches of consumer law related to pandemic-related health products, including hand sanitiser with alcohol levels far lower than advertised, the consumer watchdog has announced.
Mosaic Brands Limited, an ASX-listed retail conglomerate that counts Katies, Rivers, Noni B and Rockmans among its stable of brands, has admitted to making false or misleading claims pertaining to hand sanitiser and face mask products between March and June 2020.
The deputy chair of the Australian Competition and Consumer Commission, Delia Rickard, said they were particularly concerned about the misleading claims because they were made during a global pandemic.
The fines come following tests by Choice, which found that the group was selling hand sanitiser with alcohol levels far lower than advertised.
Choice issued a complaint to the ACCC, which conducted independent tests and found "one of the sanitisers tested contained an alcohol content of 17% and another had an alcohol content of 58%, below the percentage advertised on Mosaic Brands' websites in each case. This was also below the minimum 60% alcohol concentration recommended by Australian health authorities," Rickard said.
Read more here: Australian retailer Mosaic Brands fined $630,000 for misleading hand sanitiser claims
Taiwan has reported 401 new local cases confirmed today, 13 deaths, and an additional 266 backlogged results from the previous week, in a sign that the island's worst outbreak of the pandemic is still spreading consistently despite restrictions on social movement.
Among the 13 deaths – the highest daily toll for Taiwan so far – was a woman in her 40s. Health and welfare minister Chen Chih-Shung said most of the fatalities were elderly people.
More than half of the new cases were in people under the age of 40, including 45 children aged up to nine. The new cases remain concentrated in the northern cities of New Taipei and Taipei.
Issues with Taiwan's test recording system has resulted in a backlog of thousands of results, with clearance work producing hundreds of cases to revised totals each day, making it difficult to determine clear trends. The number of backlogged cases is reportedly still growing as more tests come in, despite clearance efforts.
Taiwan remains under a level 3 alert, which is not a full lockdown but instead restricts personal gatherings to five indoors and 10 outdoors, encourages but does not require working from home, and which has ordered entertainment and recreation venues to close. Yesterday restaurants were ordered to transition to takeaway services only.
Alarmed by their first significant outbreak since the pandemic began, Taiwan's population has largely complied with both mandatory and requested restrictions, staying home and avoiding travel. Almost 1500 people are in centralised quarantine facilities, established for people with asymptomatic or mild cases of Covid-19 to reduce pressure on hospitals – several of which have recorded their own clusters of infections.
Chen has said Taiwan will only move to level 4 alert – a lockdown – if there are 14 consecutive days of more than 100 cases (a milestone likely to be reached tomorrow), with 50% untraced (which has not been reached – just 145 of the total caseload remain unsourced).
Taiwan's president has accused China of interfering in its vaccine acquisition, as the island continues to battle hundreds of daily new cases of Covid-19 with low supplies of vaccines.
Taiwan has received about 700,000 doses of the AstraZeneca vaccine so far, for a population of 24 million. While the island had been largely Covid-free since the pandemic began, an outbreak in late April has so far infected more than 5,000 people, and killed at least 47. Less than 2% of the population are vaccinated.
President Tsai Ing-wen said Taiwan had made successful deals for AstraZeneca from the UK and Moderna from the US, and were engaging with Germany's BioNTech for the Pfizer vaccine.
"We had almost completed the contract signing with the German manufacturer at one point, but it has been delayed till now because China has interfered," Tsai told a party meeting on Wednesday, in the most explicit comments to date, after months of suggestions that Beijing had been getting in the way of Taiwan's procurement process.
Pfizer-BioNTech reportedly has an exclusive deal with the Shanghai-based Fosun pharmaceuticals company to distribute the vaccine to the Greater China region, including Hong Kong, Macau, and Taiwan. Fosun has offered to supply Taiwan with vaccine doses, but Taiwan has said it is not possible.
Beijing denies obstructing Taiwan's deal with BioNtech and has accused Taiwan's leaders of sacrificing the health of residents for politics. Taiwan's opposition Kuomintang party has accused Tsai of bungling the vaccine rollout.
"Taiwan access to vaccines continues to be slowed down by Chinese interference, while they insist we buy Chinese-made ones," said Taiwan's presidential spokeswoman, Kolas Yotaka. "If you really want to help, please don't stand in the doorway, don't block up the hall."
Read more here: Taiwan accuses China of interfering with Covid vaccine deals
Published at Thu, 27 May 2021 08:48:39 +0000
https://www.theguardian.com/world/live/2021/may/27/coronavirus-live-news-facebook-covid-biden-man-made-manufactured